Is your downpipe broken? Is water overflowing from your guttering?
Sounds like your guttering system is failing and needs to be addressed quickly by the roofing experts at Surelife.
Guttering is critical to any building but if it is not working properly then it can cause endless problems inside your home and these problems eventually over time will prove costly to repair. Mould and damp can set in and the interior of your home will be affected by:
Musty smells
Damp patches on the walls and ceilings
Flaking plasterboard
Black mould
Call in our team at Surelife who will be happy to offer you a free roof survey to be able to assess your roof and your guttering system and make sure it is working as well as it could be.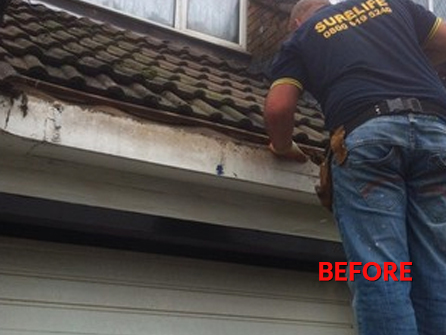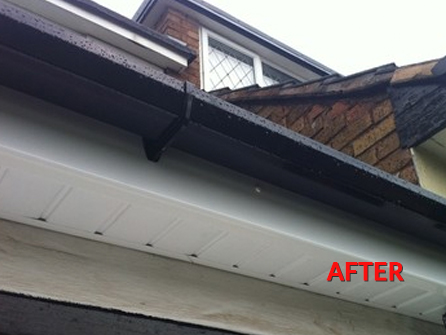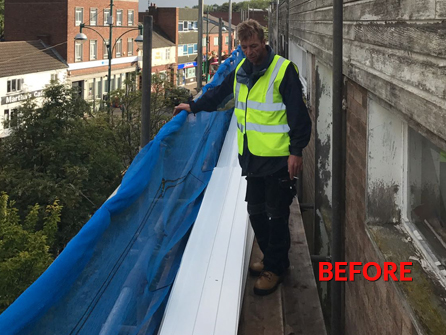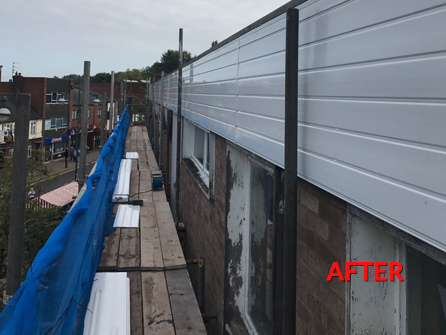 We will repair where we can and offer you replacement uPVC guttering, fascias, soffits and downpipes where needed. If the guttering is simply blocked or clogged up we will inform you and suggest we carry out our guttering cleaning service to free your guttering of moss, leaves and dirt that has built up over the years.
If you need new guttering, we provide it in high quality uPVC in a range of colours, brown, white grey or black. Our uPVC fascias we can either cap or offer you a total replacement, and our uPVC soffits, we can offer hollow tongue and groove or solid soffits. Our cladding and downpipes are high quality too, just tell us what you need and we will be happy to supply and install for you.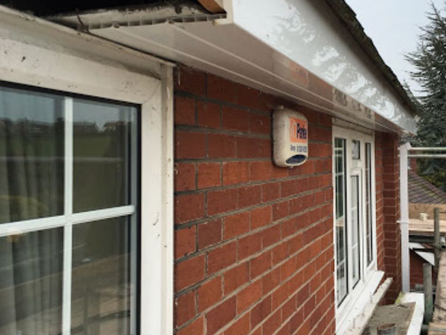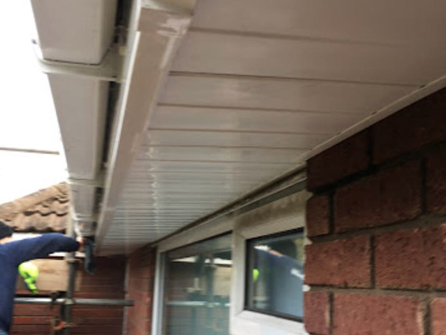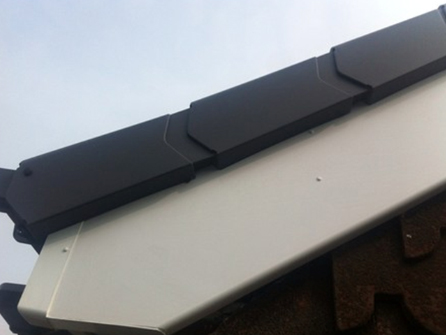 We provide excellent customer service and communication with our customers. Unlike other roofing companies, we provide detailed and extensive photos of our progress throughout the job, this puts our customers´ mind at ease knowing that the work has been carried out professionally and to our original quotation.
At Surelife, guttering work is fully guaranteed and we are fully insured.
Our guttering systems are specifically tailored to each customer as no roof is alike. Whether your property is traditional or modern, large or small, you need a replacement guttering system or simply have a broken downpipe to be repaired, full our team welcome all enquiries.
For all your guttering needs and a free, no obligation quotation, contact the roofing experts today on Freephone 0800 0195 240, we are happy to help!
Fascias, Soffits, Guttering Staffordshire | Fascias, Soffits, Guttering Shropshire | Fascias, Soffits, Guttering West Midlands | Fascias, Soffits, Guttering Wolverhampton | Fascias, Soffits, Guttering Walsall | Fascias, Soffits, Guttering Cannock | Fascias, Soffits, Guttering Burntwood | Fascias, Soffits, Guttering Lichfield | Fascias, Soffits, Guttering Tamworth | Fascias, Soffits, Guttering Sutton Coldfield | Fascias, Soffits, Guttering West Bromwich | Fascias, Soffits, Guttering Dudley | Guttering Wolverhampton